A VERY Busy December at Bosbury!
After the COVID-19 pandemic sadly put paid to several of the festivities and activities which we usually carry out at Bosbury School in the magical month of December twelve months ago, we more than made up for it this year with an exceptionally busy final month of 2021!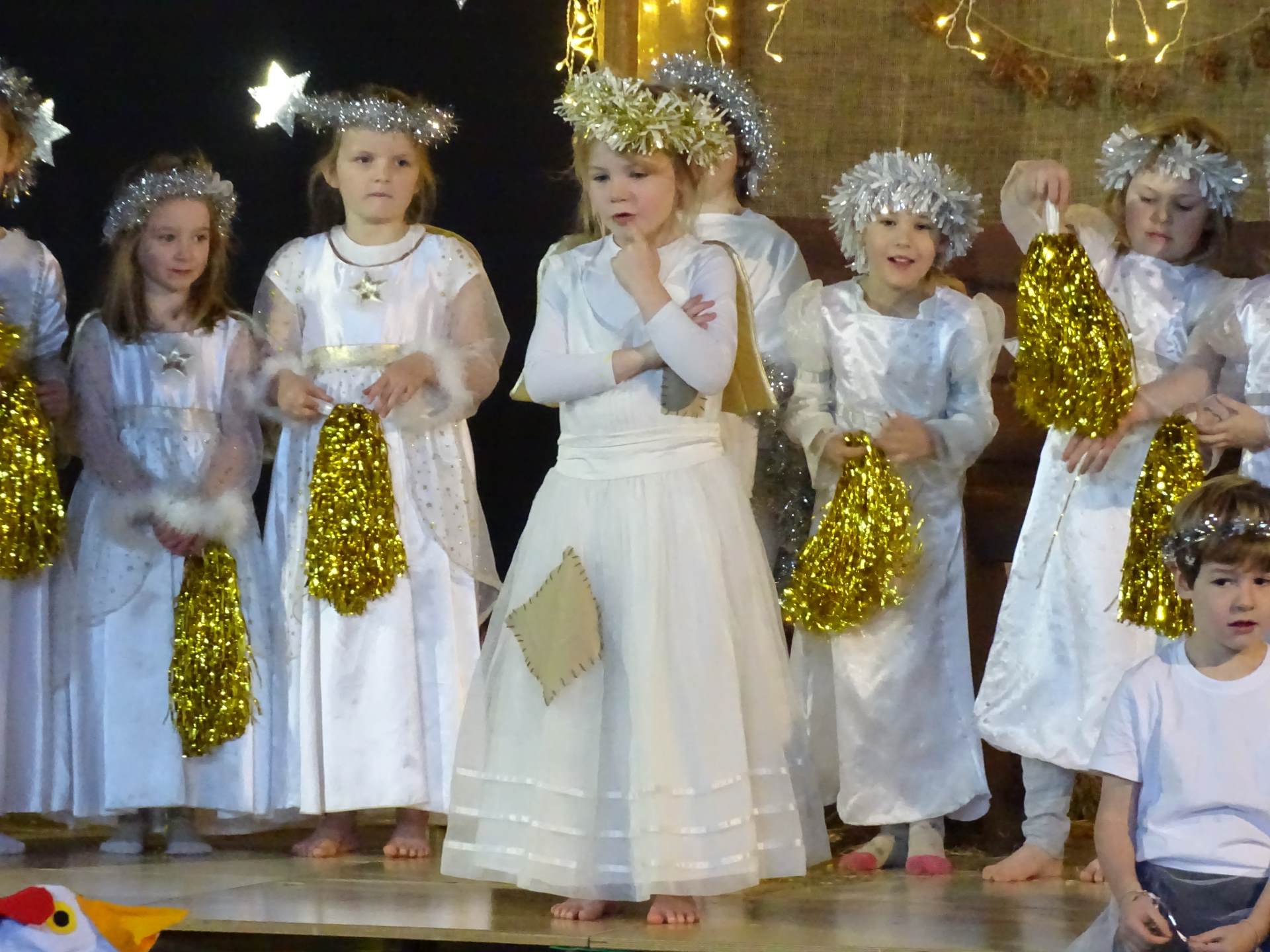 A very busy month started with of course the School Council being given the extremely important job of putting up the Bosbury School Christmas Tree to mark the official beginning of the festive season in school, and we were also very lucky this year to have our first ever outdoor Christmas tree stood proudly at the front of school - many thanks to our kind neighbours at The Bell Inn for the very kind donation. We of course also saw the return of our Deal or No Deal-style red boxes in the hall for pupils to post those ever-popular Christmas cards!
Our brand new Rudolph Run, arranged by Mrs. Symonds to help raise money for St. Michael's Hospice also kicked the month off in suitably-festive style, with a number of other exciting sports tournaments also taking place during the opening weeks of December courtesy of Mr. Handy - so many in fact, that we have given the Rudolph Run and the rest of the winter sporting events their own article HERE. Full albums of all of these festive physical events can also be found HERE!
Class 5 had an extra special treat early in the month, being given the chance to bring their exciting Shakespeare topic truly to life with a visit to Ledbury Primary School to watch a fantastic and powerful performance of Romeo and Juliet by the Young Shakespeare Company. Some of our budding young thespians jumped at the chance to become involved on stage themselves!
Our oldest children were then given an extra festive opportunity the following week when they were invited up to neighbouring Bosbury Holy Trinity Church for a series of special Experience Christmas workshops with the Reverend Nicky and the Open the Book team, giving them a real chance to reflect upon the Nativity story and consider the true messages behind the Christmas season. Class 2 were also given the chance to partake in the same extremely thought-provoking workshops a few days later, and were very excited to be able to witness the Baby Jesus himself in the church! A full gallery of Class 5's visit to these lovely workshops can again be found by clicking HERE.
Our youngest children were of course very busy as well, with Class 1 having some superb Spanish lessons with Mrs. Symonds based around Christmas traditions and carols en Espagne, with some lucky Reception children even being given the chance to make some festive calendars with Mrs. Christopherson and Master Otto in the Rainbow Room as Class 2 took a walk up the village in the low winter sunshine to post their very own handmade cards to Father Christmas!
Class 3's chocolate project, inspired by their topic of the ever-popular Roald Dahl classic Charlie and the Chocolate Factory was also in full swing, going from doing important (and rather delicious!) market research, before going on to design and make their colourful Christmas chocolate boxes and ending the term by filling them with deliciously tasty contents made at school!
Along with a very cosy pyjama, teddy bear, hot chocolate and Christmas film day, this year also saw the first ever open-air children's Christmas market held by FOBS on the Key Stage 2 playground, which was a roaring success as the pupils eagerly spent their pennies on a wide range of goodies such as cakes, toys, books and decorations, including their own personalized handmade baubles at school as Father Christmas himself also took time out of his extremely busy schedule to pay us a visit!
We were then lucky enough to have the West Midlands Theatre company visit school to give us a rip-roaringly brilliant and very funny Jack in the Beanstalk pantomime, before it was then time for the obligatory whole school Christmas lunch to occur, as an extremely well-oiled staff machine effectively fed around 150 eager diners in the school hall! A big thank you also to Mr. and Mrs. Bolton for providing the all-important crackers!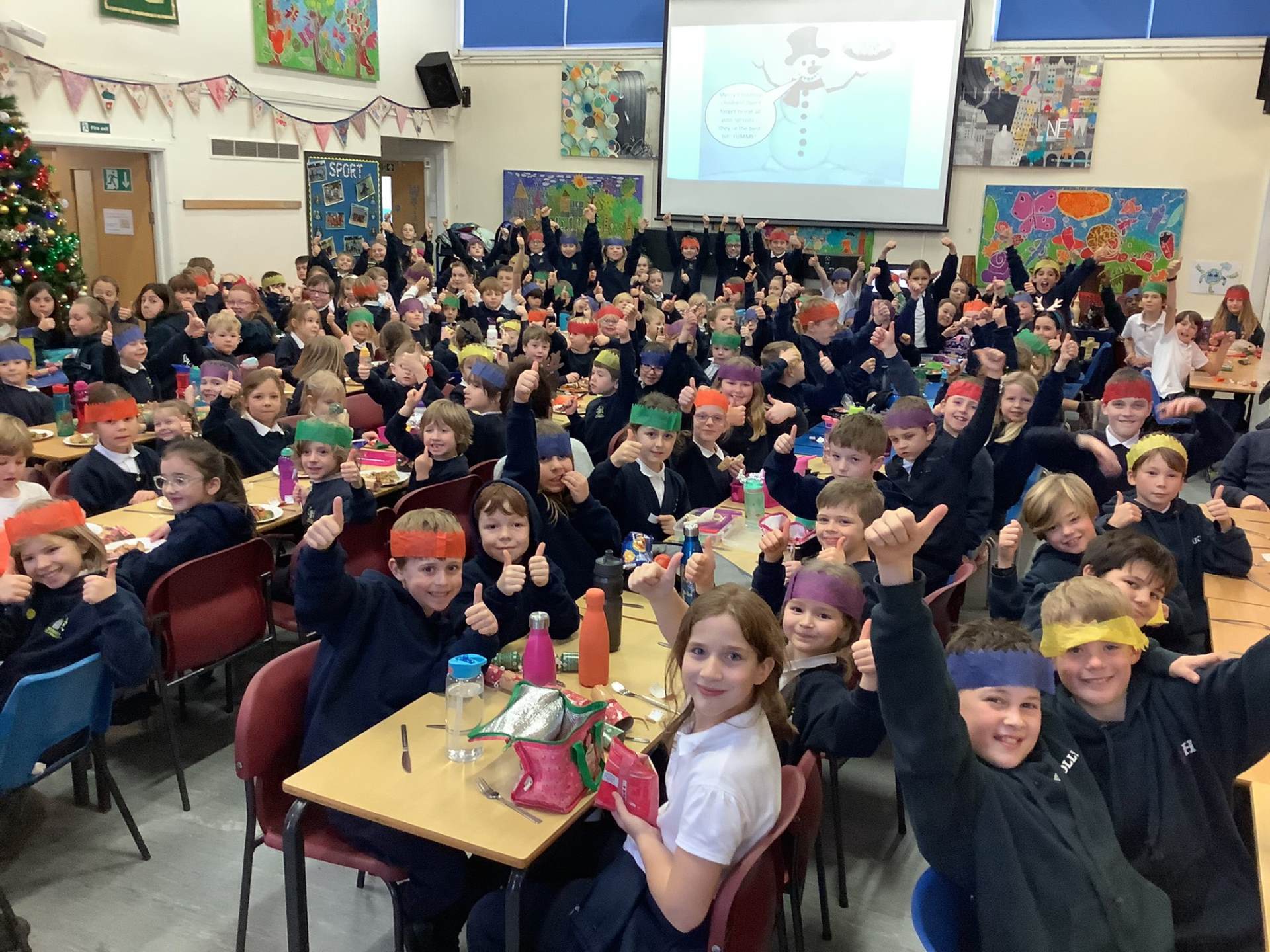 A little taste of the Christmas meal atmosphere. pic.twitter.com/4imyJIVpSD

— Bosbury Primary (@BosburyPrimary) December 15, 2021
Our brilliant Art Council also held a special competition during December, challenging pupils to design their very own Christmas picture. The standard of the artwork was so incredibly high that the two Year 6 members of the Art Council had to enlist the help of local artist Simon in order to decide the winners!
It was extremely close, but in the end the overall winner was a highly talented young lady from Class 5 who used computer-generated imagery to produce an original design involving a Christmas dinosaur - you can never have enough of those!
All the winners from each class received their very own early Christmas presents in the form of an array of artistic goodies!
It was then time to create those all-important Christingles in preparation for our first ever DOUBLE Christmas service at the church. Suanna our school governor came in to give us a very informative assembly about how to make a Christingle along with a very interesting history of the tradition featuring our many of our youngest pupils as excellent guest helpers...
... before the Christingle-making then began! As is customary at Bosbury, our Class 5 pupils always help their Class 1 buddies to make theres, and it was such a lovely sight to see our oldest children working so well with their young apprentices in order to make their Christingles. Of course, there was plenty of time for a spot of colouring afterwards, and many more photos from this lovely morning can again be found HERE.
The traditional class Christmas parties then followed, with Class 2 even going on a Conga line around the whole school...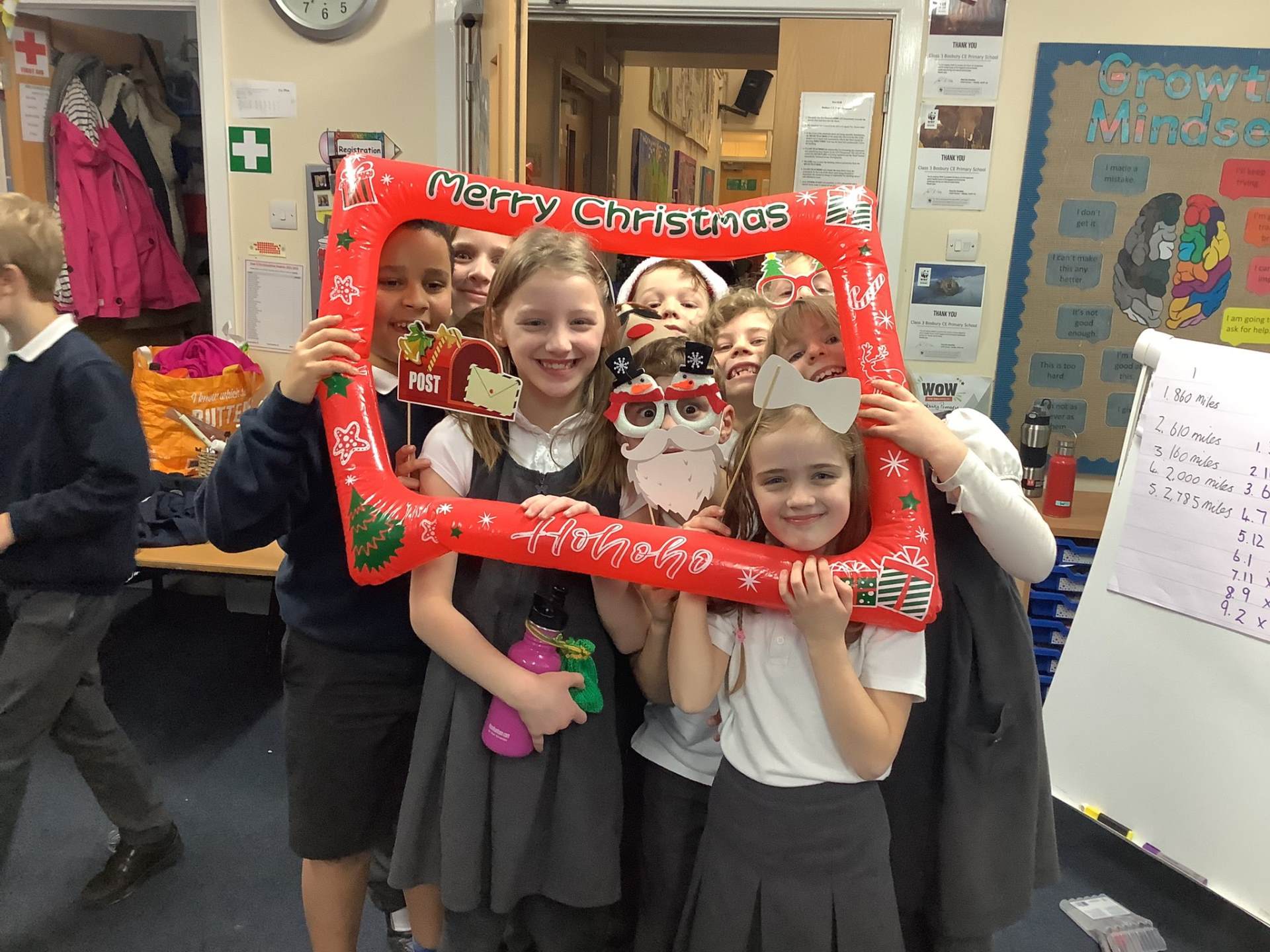 Class parties are underway at Bosbury. Class two went on a Conga around the school. pic.twitter.com/YNPdW9Ej3b

— Bosbury Primary (@BosburyPrimary) December 16, 2021
... and we couldn't leave without mentioning the magical first Key Stage 1 Nativity in two years, 'Whoops-A-Daisy Angel', and the first ever whole school Bosbury School double Christingle at the church, but again, as these two events were just so impressive, we had to give them their own separate news articles HERE and HERE!
We will end this festive extravaganza with messages from both our Chair of Governors Mr. Mike Sessarego and our Headteacher Miss Maggie Spence as we look forward to what we hope will be a peaceful and safe Christmas, followed by a happier and more prosperous New Year.
Dear Parents and Carers,
In last few days, I have had the privilege of being able to see the Nativity Play and a rehearsal of the Christingle Service. Both were joyous occasions, with the children's obvious pleasure being quite apparent. As a primary school teacher of thirty-five years' experience, I must say that I have rarely seen such confident children. I was particularly struck with the way in which they supported each other, and the mature way in which they managed any difficulties that arose.
I believe that the restrictions imposed upon the school have not impacted on the children's enjoyment of this very special time in school. I know that Maggie and her staff have pulled out all the stops in order to generate a real sense of the spirit and the values of Christmas.
As we come to the end of another term in the shadow of Covid, I would like to take this opportunity to thank everyone involved in the school, and you, the parents, who have pulling together so well to get us through. Hopefully, the latest scare will be short-lived, and life will soon return to normal.
Do have an enjoyable Christmas.
Mr. Mike Sessarego - Bosbury Primary School Chair of Governors
Dear Parents and Carers,
I would like to thank you all for your support over the last few months. This term has presented us all with some challenges. As 2021 comes to an end, we are getting ready in school for the beginning of 2022. Displays are coming down, and themes for the curriculum are changing. Trips are being booked, and planning of lessons has started. The teachers job is never done.
I am sure you will all join me in saying a HUGE THANK YOU to all the staff. We must not also forget FOBS, our Friends of Bosbury School, who have worked tirelessly to ensure that events have continued this term. The Children's Market in particular was a roaring success. We are really grateful for their creative ideas to raise money, with the added challenge of keeping everyone as safe as possible.
We are so lucky to have such a wonderful team who are so committed to supporting and raising money for our school. I hope everyone has a lovely Christmas and a really Happy New Year. I am sure 2022 will be an exciting one at Bosbury!
Thank you
Miss Maggie Spence - Bosbury Primary School Headteacher