Bosbury Brings Christmas Magic with First Ever Double Christingle!
It was another first for Bosbury Primary School this Christmas, as our amazing pupils and extremely talented parent choir singers put on a first ever DOUBLE whole school Christingle service in the beautiful setting of Bosbury Holy Trinity Church!
Although we were very sad not to have been able to hold our traditional trademark Bosbury Christingle service at the church last year due to the horrible pandemic which has affected all of our lives, Bosbury pupils more than made up for it this time around by performing not once, but TWICE on the last day of the Autumn Term in front of two different audiences of parents!
Following an early morning rehearsal in the church itself with the school choir and our adult choir, the pupils eagerly gathered in the school hall on the morning before the services, and, as is Bosbury School tradition, Class 5 took the lead for this special double festive event, entering the church with some beautiful and poignant singing with their own Christingles made with their Class 1 buddies.
Our oldest pupils showed great confidence in delivering some clear Bible and Nativity readings to the congregation...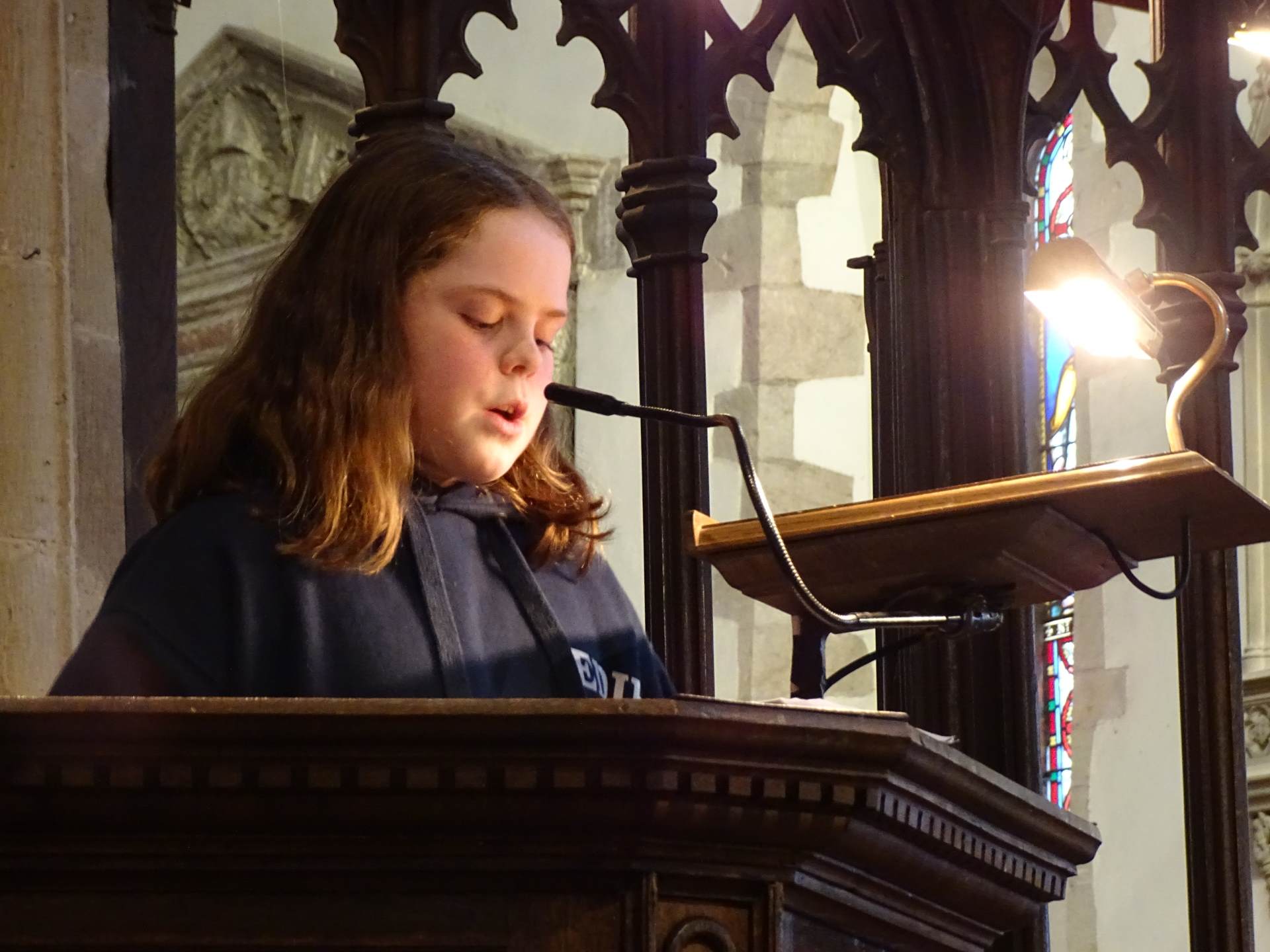 ... and as for the singing itself, WOW. It was absolutely magical, as each class and Key Stage delivered a magnificent array of festive songs and carols, creating an utterly magical atmosphere in our local church which left parents spellbound.
The best was yet to come however, as the whole school donned their instruments ranging from the classic drums and xylophones through to the more recent ocarinas and brand new brass instruments to perform a rousing rendition of Jingle Bells, with even the pitch of the pupils' singing changing throughout to match that of the lead instruments! SO clever - take a listen for yourself!
/i/video/Christingle_Services/2021/IMG_4065.mov
After two of Class 5's most confident and articulate speakers read us an extremely thought-provoking piece about the plight which many refugee families are now facing following the recent unfortunate events which have occurred overseas this year...
... it was then time for our fantastic parent choir to shine, returning to the stage for the first time in two years with several new (one of them being very, very young!) members to deliver a truly magnificent and stirring performance, which had obviously been finely tuned and polished to perfection under the expert tuition of our resident music maestro Mrs. Walker after several Saturday afternoon rehearsals over recent weeks!
/i/video/Christingle_Services/2021/IMG_4066.mov
Our brilliant choral mums, dads, grandparents, relatives, and even a few members of staff all in startling tune then joined forces with our own school choir to deliver a truly spine-tingling spectacle...
... before the poignant main event then occurred, with the lights in church dimming to see the entire school encircle the pews with their lit Christingles to deliver a truly beautiful rendition of Hope of Heaven, which left very few dry eyes amongst both sets of congregations that day!
One final hugely uplifting burst of Hosanna In Excelsis then followed as our local Vicar Mandy and Reverend Nicky closed these spectacular services with Christmas blessings, especially for all those who may be struggling or are perhaps not so fortunate at this time of year during the challenging times we continue to live in.
Thank you to both Mandy and Nicky for closing our services, and also to our school governor Suanna and Bosbury Holy Trinity Church for allowing us to use this wonderful setting for our first proper Christingle celebrations since December 2019.
Well done to all of our superstar pupils for their exemplary singing, instrument-playing and speaking, with a special thank you to all of our parent singers for giving up all of those Saturday afternoons in order to practise for such a magical performance to our pupils, staff and other parents.
Thanks to all members of staff for diligently rehearsing the pieces with our pupils in class throughout December, to Mr. Smith for his ever-reliable and on-point DJing, and to Mr. Ponter for taking the above photos and videos at the event.
The BIGGEST thank you of all however goes to the extraordinary talent, patience and encouragement which belongs to none other than the amazing Mrs. Walker for putting together two flawless festive performances, with her eldest daughter and ex-pupil Bonnie also displaying her impressive musical talents during the services on the piano - it obviously very much runs in the family!
Music has always been a highly-regarded and well-known strong point of Bosbury School, but without Mrs. Walker's remarkable tuition and inspiration, such consistently high standards and such spell-binding performances would simply not happen. THANK YOU MRS. WALKER!
We will leave you with a special video of a whole school rehearsal of this year's Christingle services kindly taken by our ICT consultant Mark Sanderson, as well as a full slideshow gallery of all photos taken during the two main performances.
ALL AT BOSBURY SCHOOL WISH ALL OF OUR WONDERFUL PUPILS, PARENTS, CARERS, FAMILIES, STAFF AND FRIENDS A VERY HAPPY, SAFE AND PEACEFUL CHRISTMAS, WITH ALL FINGERS CROSSED FOR WHAT WILL HOPEFULLY BE A MUCH MORE SETTLED AND PROMISING NEW YEAR!
Christingle Services 2021 at Bosbury Holy Trinity Church