Bosbury Raises
2,000
Pounds
in Rudolph Run... Plus December Sports Round-Up!
It was ho ho ho all the way to kick off December at Bosbury, as every pupil and several members of staff embarked on a very special mile run around the school field, sporting shiny red noses with antlers to match in the school's first ever Rudolph Run for St. Michael's Hospice!
After a quick stretch and warm up with Mr. Handy in the chilly conditions, around 150 of Santa's finest raced off to try and complete the usual five and a half laps around a rather boggy school field, using their red noses extremely well to help guide them under the low winter sun!
We absolutely loved taking part in the Reindeer Run today for @StMichaelsHosp! It was a wonderful atmosphere for this incredible local charity. Please sponsor if you can! pic.twitter.com/SGokUJI9Cr

— Bosbury Primary (@BosburyPrimary) December 1, 2021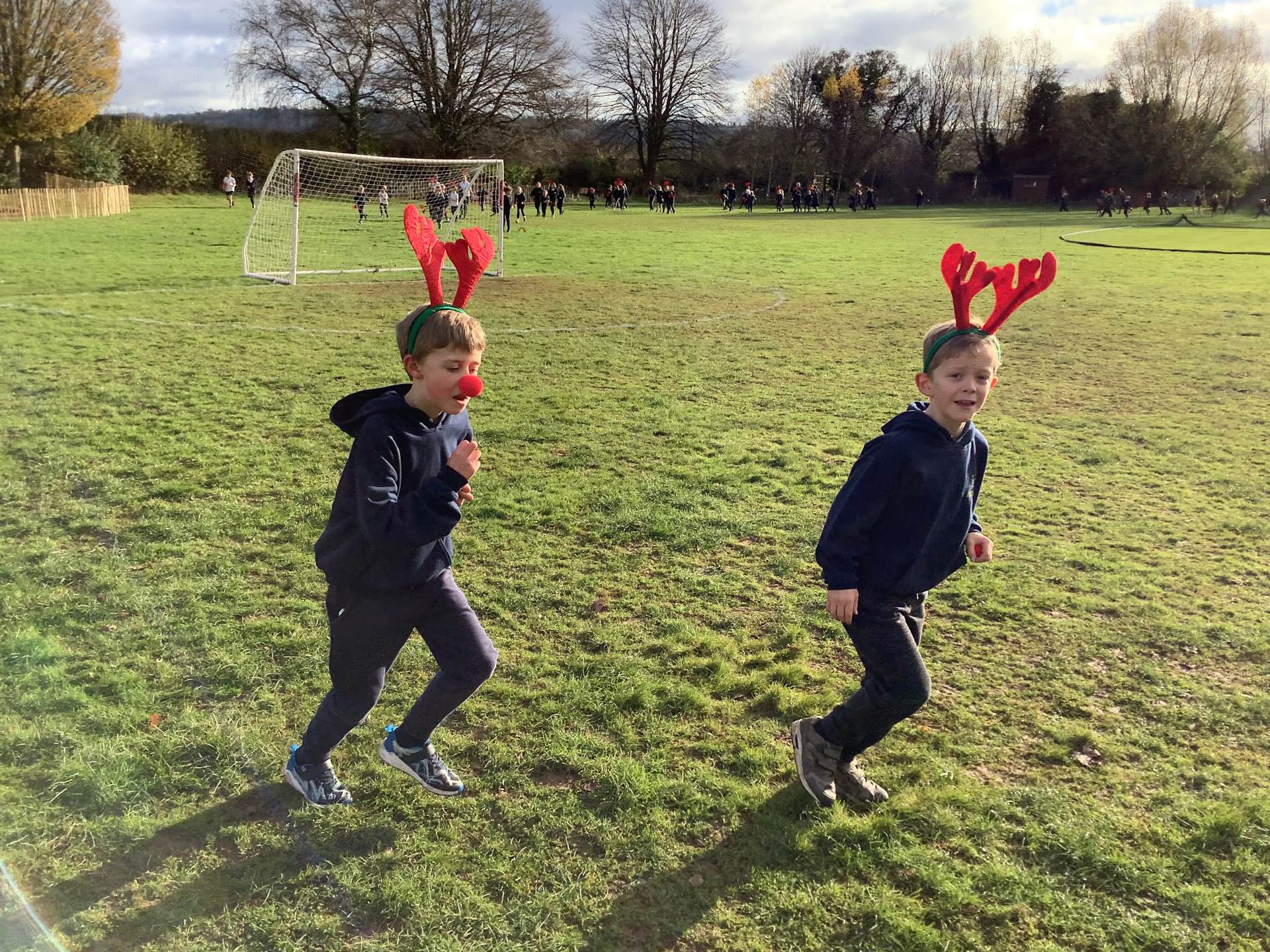 Go Bosbury Go! Reindeer Run 2021 @StMichaelsHosp pic.twitter.com/iKiv0lcdgZ

— Bosbury Primary (@BosburyPrimary) December 1, 2021
The jolly red man himself was even spotted during the event, although sadly, the lack of a belt to keep his festive attire on over his sportswear meant that his true identity was quickly revealed even before he had completed his first lap - can you guess who the mystery Santa was...?
A huge, Santa-sized thank you to Mrs. Symonds for organzing such a successful and enjoyable inaugural Rudolph Run event, which we trust is now going to become a mainstay in the Bosbury School calendar! An incredible grand total of nearly £2,000 (£1,999.40 to be precise!) was raised in sponsorship for the event in aid of such a worthy local cause, and so a massive thank you also goes to everyone who sponsored one of our keen reindeer!
The full gallery of photos from this festive fun run can be found HERE!
On a similar note, we couldn't leave it there without mentioning our school's other sporting successes and activities during the last month of the year, beginning with the fantastic efforts of our new school football team and hockey team during their first tournaments.
Our budding Harry Kanes and Raheem Sterlings made a terrific start to their opening set of matches against other local schools in the cluster tournament, winning several games despite battling against limited visibility as the winter evenings began to draw in.
Bosbury's heroic hockey players also totally excelled in the Sainsbury's School Games tournament on the astro-turf pitch at John Masefield High School, actually going on to win the competition! Don't just take our word for it however - check out this great report written by star Bosbury hockey player herself Ruby!
"On Friday 8th October, it was the hockey tournament at John Masefield. Six young leaders from Class 4 and 5 represented our school. They played six matches against six different schools from around the area. Mr. Handy warmed the group up and got them playing. They won most matches, except the first one which they lost, and the third one was a draw. They came around though, and found out at the end that they had won the Sainsbury's School Games tournament."
Amazing effort and superb team work from these two stellar Bosbury teams! The groups of very happy-looking children below also have very good reason to celebrate, after winning the inter-school football tournament which took place on 6th December!
All of our Class 4 and 5 children did themselves proud during an extremely competitive afternoon, as referees Mr. Handy. Mr. Ponter, Miss Cooke, Miss Palmer and Mr. Thomas kept a watchful eye over the games. The officials did their best to obtain some bookings, bearing in mind that any fines would have come in quite useful at the staff Christmas meal, but due to the truly fantastic levels of sportsmanship and team spirit on show, we can happily confirm that precisely zero yellow cards and zero red cards were issued throughout the tournament!
Not to be left out, Class 3 then held their very own tournament just a couple of days later, with Mr. Handy, Miss Cooke, Mrs. Swain and Miss Hawkins on officiating duties as we were again extremely impressed with the skills and teamwork on show - as well as of course the trademark Bosbury humour! Well done again to the (clearly very pleased!) winners!
Well done to ALL of Bosbury School on such a superb month of sport despite the more challenging weather and wintry conditions, with a HUGE thank you in particular to Mr. Handy for all of his hard work in organizing all of the events and providing transport to the hockey tournament even on his day off! Thank you Coach Handy from all of us at Bosbury!