'Whoops-A-Daisy Angel!' - Key Stage 1 Delight with First Full Nativity in Two Years!
Our superstar Key Stage 1 children delighted and entertained us all towards the end of an extremely busy latter half of the Autumn Term, treating us to the first proper full Bosbury School Nativity since December 2019 as Whoops-A-Daisy Angel took to the stage!
With a dress rehearsal, two performances to parents and a final performance to the whole school, our Class 1 and 2 star performers sung and acted beautifully, telling the story of how this rather disorganized but loveable angel (brilliantly played by the confident young lady from Class 2 shown above!) became the unlikely chosen one to help show the way to Bethlehem, where Mary of course gave birth to the Baby Jesus in the stable.
All of the Nativity favourites were there, including of course Jesus, Mary and Joseph themselves, as well as the shepherds, wise men, camels, and Whoops-A-Daisy's angel friends!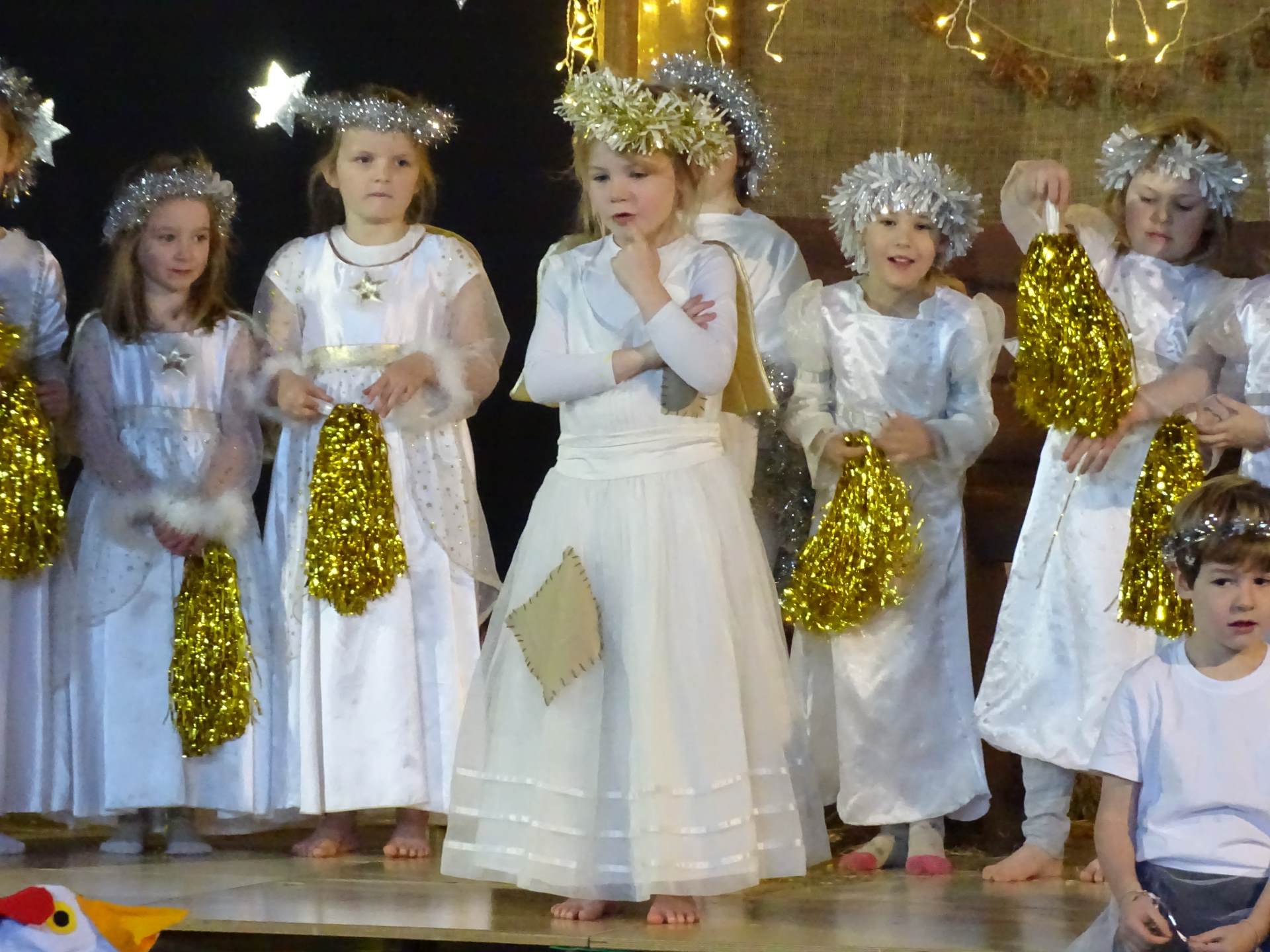 We also had some magical snowflakes who treated us to an enchanting dance, with our four narrators doing a very good job of guiding us through this timeless story!
There was also an incredible array of stable animals, possibly the biggest ever seen in any Bosbury Nativity ever! How many different animals can you spot below who were there to witness the birth of a VERY special baby...?
This magical performance then ended with a beautiful rendition of Away in a Manger, with the backing piano track even being specially provided by an extremely talented young lady in Year 6, and our incredible little superstars even managed to produce parts of the song using sign language! It was a very moving and emotional end to such a lovely show.
Congratulations to all of our amazingly confident Nativity performers - as you can see, our older children gave the show a massive thumbs-up, really enjoyed their special viewing of the performance rather fittingly on the Save the Children Christmas Jumper Day!
A HUGE thank you to Mrs. Thompson, Mrs. Wilesmith, Mrs. Symonds, Miss Christie, Mrs. Christopherson and Mrs. Burton for all of their hard work with rehearsing the songs with the children, providing the stage directions, designing the set and arranging the costumes (thank you also to all parents who helped out with providing any Nativity attire!), and of course to the extraordinarily brave and talented pianist from Class 5 for her lovely cameo. A special behind-the-scenes peek at one of the song rehearsals can be seen below!
Stormy outside at Bosbury but so peaceful inside. Here is a sneak preview of a song from the Nativity. pic.twitter.com/hiEDgosNwn

— Bosbury Primary (@BosburyPrimary) December 7, 2021
Thank you also to Miss Cooke, Mr. Ponter and Mrs. Bolton for putting up the stage... and taking it down so rapidly again barely a week after it had gone up in order to make room in the hall for the final very busy week of Christmas lunches, films and pantomimes! Due to the ongoing pandemic, it was the first time we had seen the stage up in two years!
Below is a Nativity film kindly put together by our ICT consultant Mark Sanderson, filmed during the first performance to parents, as well as a full slideshow gallery of photos taken by Mr. Ponter both during rehearsals and the final performance to the rest of the school.
HAPPY CHRISTMAS KEY STAGE 1, AND THANK YOU FOR REALLY GETTING US INTO THE CHRISTMAS SPIRIT!
Key Stage 1 'Whoops-A-Daisy Angel' Christmas Nativity